Bill Mitchell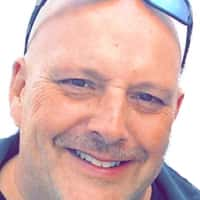 I'm married to Cheryl, and we have 4 incredible kids! I'm from Middle-Of-Nowhere, Michigan. I always knew I wanted to be on the radio at a very young age. Grew up watching Howard Cosell, Walter Cronkite, and Lawrence Welk. Listened to distant AM radio stations on my transistor radio at night. At first I wanted to be a baseball announcer; then I discovered The Rolling Stones and realized I wanted to play music on the radio. Started out as a Baby DJ in 1977 and have been on-the-air
continuously
since then. Super lucky! Nearly 25 years on-the-air in Wisconsin, and VERY glad to be living in Southeastern Wisconsin. So much to do, and my family and I enjoy all our area has to offer!
My lovely wife and kids make my world go round every day. I collect records, old radios, and exercise equipment (to hang clothes on).  I'm B-I-G on grilling, and know my way around the kitchen. Enjoy drinking craft beers and fine whiskeys. Hiking, local history, Great Lakes history, and photography are a few other time chewers of mine.
I work with a lot of great people at our radio stations. Something new every day! I'm very thankful for our super cool listeners and advertisers ~ Thank you!
---