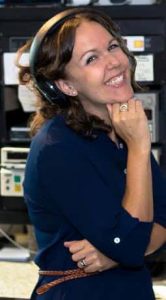 Wisconsin is HOME!   I worked in San Diego for 7 years at the legendary country station KSON, but after having 3 babies, it was time to move back to see our babies grow up surrounded by cousins and grandparents.
I fell into radio my freshman year of college at UW-Whitewater when I had to take a one credit class of something outside my field (I was going for Theatre).  I saw a class called "radio practicum" and fell in love.
I worked at a few other stations before coming to country radio and it is THE BEST!  One of the most popular questions I get is "who was your favorite country star you met?"  Blake Shelton!  After I met him for the first time, I was glued to his humor and his baby blues.  But honestly, so many country artists are so great off stage and that's why they stand apart from other music formats.
I love going to concerts and movies.  During the summer months, my husband and I love camping and can't wait to continue that tradition with our 3 kids.