Mitch Morgan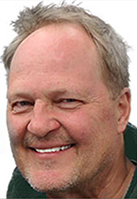 My Dad owned a business in Hartford. He knew I had an interest in radio, so he had me voice his radio spots. The manager of the station liked my sound, so he offered me a weekend job, running the control board for Sunday afternoon Rock River Baseball games. At the end of baseball season, I had my own DJ shift! I was 16. I've worked for radio stations in Appleton, Janesville, Madison and here in the Milwaukee market. Also Miami, Florida and New York, New York. (So nice, they named it twice).
This year my wife Deb and I will celebrate our 40th & family live in Hartford. Daughter Melinda & family live in Waukesha. We have four grandchildren. Deb and I have been avid equestrians for over 20 years, riding the trails in the Southern Kettle Moraine Forest. And, I love Old Cars.
Awards in Radio: 1991 Billboard Magazine Music Director of the year nominee. Country Radio Broadcasters DJ Hall of Fame nominee 2007, 2008 & 2009.
Favorite Artists: George Strait & Miranda Lambert.